Hyvä is Finnish language. It means "good", synonymous with "desirable" and "advisable" – "contributing to a positive goal" – "having the desired or positive qualities". If spoken as a reinforcement word it means "exactly" – and when used in various polite forms of address, it also means "dear". To start finding your inner Finn, here is how you would pronounce it.
So, apart from taking it over from my family name Hyvärinen, I want to see HYVÄ rooted in all planning, decision making, management and generally, in the principles of communicating and working together. Simple, honest and powerful.
Increasing …
the number of choices is tough, and it is fun. Be it within your destination, your local community, with your business partners or for your clients. My principle of inspirational product and service development is based on our joint initial analysis of where things are, and the ethical imperative "Act always so as to increase the number of choices" (Heinz von Förster, 1911-2002).
Difficult is …
worth doing. Even if a task initially seems huge or even impossible, it is worth tackling, and I want to see you succeed in bringing your visions and thoughts into action. An independent, objective voice is often helpful, and a "bird´s eye view", backed up with solid knowledge and up-to-date resources, will help you prioritise goals and make better decisions.
Let's reduce …
complexity and aim for excellence. In the face of reams of information, disinformation and distractions, including the daily business pressures, help with structure saves you time. With clarity and accountability, you will be empowered to make, maintain and measure what matters, step by step.
Sharing …
my experience means in practice to help you with direction, processes and execution. My goal as a coach and consultant is to make myself superfluous, by letting your knowledge and skills grow, your teamwork and methods evolve for accountability and integrity.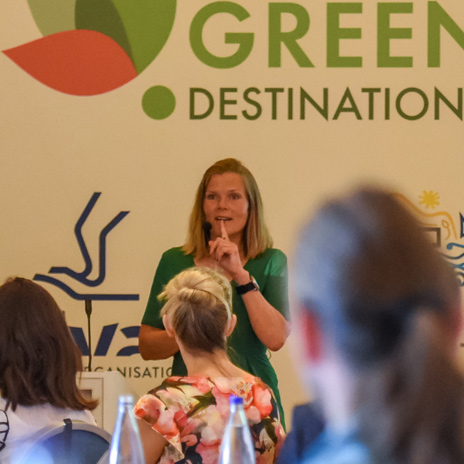 About me
About me
My primary focus is on sustainable tourism. In 2013, I founded my company and as a consultant and facilitator, I concentrate on capacity building, organisational change, service diversification for emerging destinations, branding and marketing of new, community-and-nature-based tourism products.
Since the mid 1990's, I have worked with NGOs, business associations, international development agencies, and local and national governments. Firstly, as a B2B marketer for Latin American destinations and SMEs (1995 – 1998) and then as a regional DMO director in the Black Forest (1998 – 2001).
In my position as a specialist of Travel, Leisure and Tourism at KPMG Consulting (later BearingPoint) I worked with a diverse range of clients, from leading travel technology providers to destinations (2001 – 2008).
In my role as senior advisor to the National Tourism Organisation of Montenegro (2006 – 2013), I worked closely with the government and NTO management, helping to establish funding sources and linking national and international stakeholders and partners.
Completed projects of destination and business development in Albania, Armenia, the Dominican Republic, Croatia, Serbia and the Sichuan Province of China (2011 – 2021).
Today, I am co-founder and leader of the Travel Massive Montenegro chapter and co-founder and partner of the BALKAN GREEN initiative. Since 2018, I have served the Management Board of the Global Ecotourism Network and help develop the European Ecotourism Network. Since 2020 I represent Green Destinations in Montenegro, as coach and auditor in the Balkans.
As a regular guest lecturer at European Universities, I discuss with students contemporary issues, sustainable development, tourism management and marketing. Under my project leadership (2003 – present), the VDR Business Travel Report Germany delivers pioneering research with facts, figures and trends.
Most importantly, I am of Finnish origin and love nature. I hold a degree in Business Administration (Tourism Management and Marketing) from Heilbronn University, Germany.
Less Frequently Asked Questions
Less Frequently Asked Questions
Interview by Victoria Arendt – Independent Artist and Author
"These questions and answers may give you a glimpse into Kirsi's life. Candid and determined, she is someone worth knowing and I consider her a maverick."
In addition, here are a few questions from the podcast of the German ZEIT ONLINE, "Alles gesagt?" (All said?):
Stand up or snooze? Stand up.
Mindful or never mind? Mindful.
Yes or maybe? Yes.
To share or to have? To share.
Indoors or outdoors? Outdoors.
Rich or sexy? Sexy.
Smoke or drink? Drink.
Knowledge or Google? Ecosia.
Early morning or night? Early morning.
Sowing or reaping? Sowing.
Twitter or Facebook? Twitter.
Twitter or Instagram? Instagram.
Instagram or Facebook? Facebook.
Facebook or LinkedIn? LinkedIn.
WhatsApp or SMS? SMS.
WhatsApp or phone call? WhatsApp.
WhatsApp or e-mail? e-mail.
Music on or music off? Music on.
East or West? East.
East Berlin or West Berlin? West Berlin.
Moon or stars? Stars.
Organic or regional? Regional.
Soya or oats? Oats.
Glass or bottle? Bottle.
Flight shame or train pride? Train pride.
Car or no car? No car.
TV or no TV? No TV.
Read or write? Read.
When red or when green? When red.
Red or green? Green.
Is there a question missing?
Get in touch
Get in touch